When you pass through a spacious entrance, you will find twelve user- friendly conference rooms, comfortable lounges and KIOSK stands, as well as coordinators to warmly serve clients. In between meetings and events, you can look out on greenery or chat while drinking coffee. Our luxurious spaces and pleasant environment give birth to new ideas and exchanges. This is the "new conference facility standard" that the Akasaka Intercity Conference Center aims for.



LOCATION

Direct access to two stations and four train lines (Tameike-sanno and Kokkai-gijidomae subway stations)

The venue connects directly to the station and you can reach it without getting wet even on rainy days. You can also access nearby hotels via one limousine bus from Haneda or Narita airports.

SPACE

A spacious venue and a fully equipped facility for luxurious presentations

A roomy entrance, lounges overlooking greenery and twelve conference rooms featuring state-of-the-art equipment. To enhance usability, we have paid attention to the smallest details, such as with our original desks.

USEFUL

Our permanently stationed coordinators and English-speaking concierges provide support

Our experienced coordinators and English-speaking concierges are permanently stationed on site. They find solutions for our clients' various needs, from support in holding conferences and events to accommodation arrangements.

Our facility is sited on the third and fourth floors of Akasaka Intercity AIR, a building complex that connects directly to Tameike-sanno Station. In addition to a roomy entrance and lounges on both floors overlooking greenery, we have provided an efficient layout for our twelve conference rooms, which boast state-of-the-art equipment, including our main hall, "the Amphitheater" and meeting rooms of various sizes.
This floor features three conference rooms for 100, 50 and 25 people, respectively, as well as the Boardroom. The Boardroom is an executive conference room with luxurious facilities. You can directly access it from the carriage porch, passing through a security gate to the corridor. Also, experienced coordinators are permanently stationed in the conference office to respond to various client needs.
This floor features both large and small conference rooms, as well as "the Amphitheater", a hall with stadium seating. The centerpiece, however, is "the AIR", the main hall with a capacity of 300 that can be partitioned. With a spacious lounge, a dedicated reception area, and multiple waiting rooms, the design is ideal for holding meetings and events all on one floor. The 4th floor can be used for various purposes, including international conferences, receptions and product launches.

We can hold a variety of conferences and events, both large and small, in response to a wide range of client needs, from academic conferences and product launches to seminars and workshops.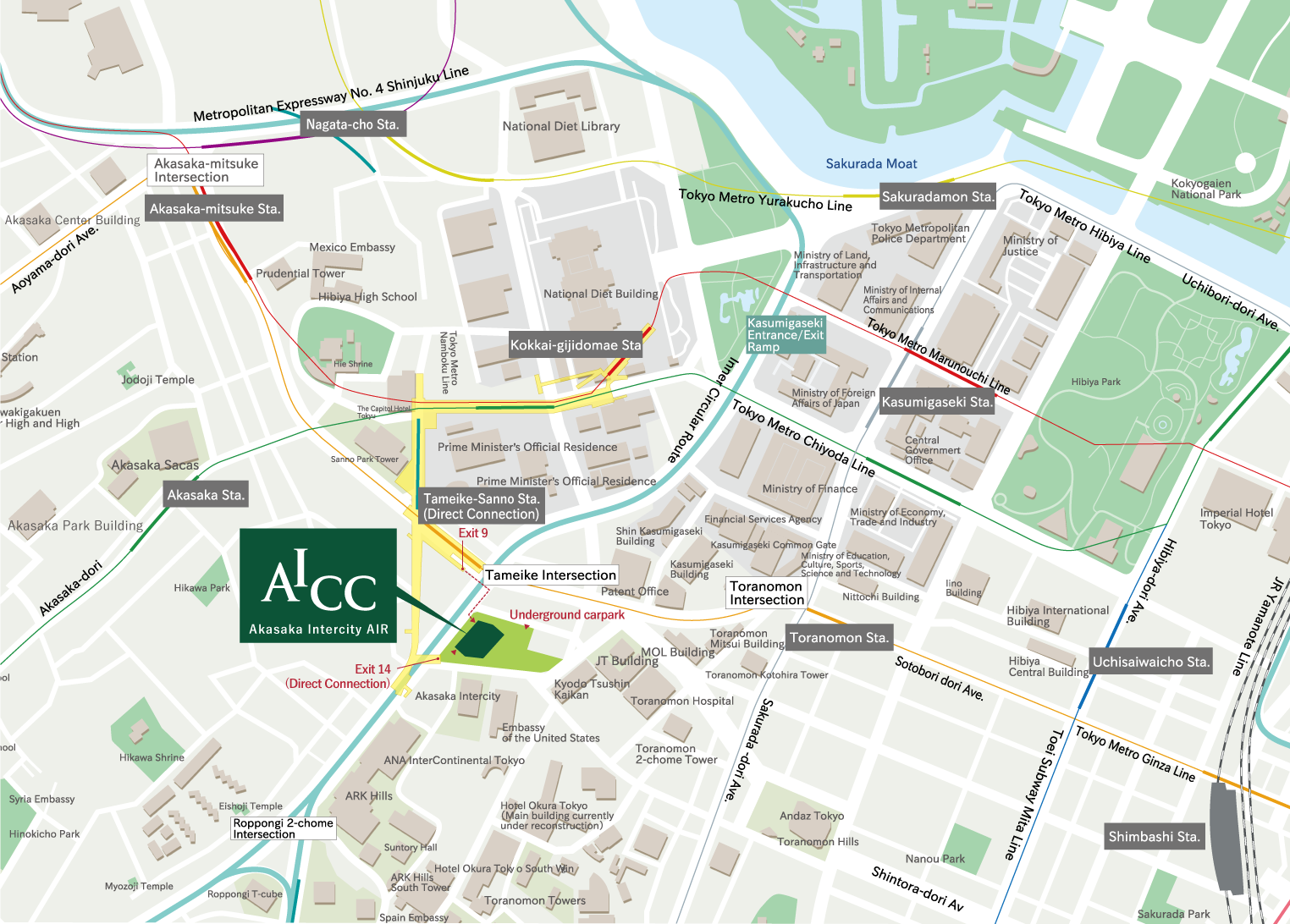 AKASAKA INTERCITY CONFERENCE CENTER
Location: 3F・4F Akasaka Intercity AIR, 1-8-1 Akasaka, Minato-ku, Tokyo, 107-0052
Closest stations: Directly connects to Tameike-sanno Station on the Tokyo Metro Ginza and Namboku lines, and Kokkai-gijidomae Station on the Chiyoda and Marunouchi lines.
Located in Tokyo's nerve center for government, culture and business.
Akasaka and Toranomon have many embassies, headquarters for foreignaffiliated corporations and other international businesses, while Kasumigaseki is the nerve center of the Japanese government and Roppongi is a hot spot for art museums and other cultural sites. Our facility opened on the third and fourth floors of Akasaka Intercity Air, a new landmark complex born in the heart of it all. You can use two stations and four train lines, the direct underground links to the Tameikesanno and Kokkai-gijidomae subway stations to reach us. You can also access nearby hotels via limousine bus from Haneda and Narita airports. We are proud of our outstanding convenience to guests from Japan and abroad.